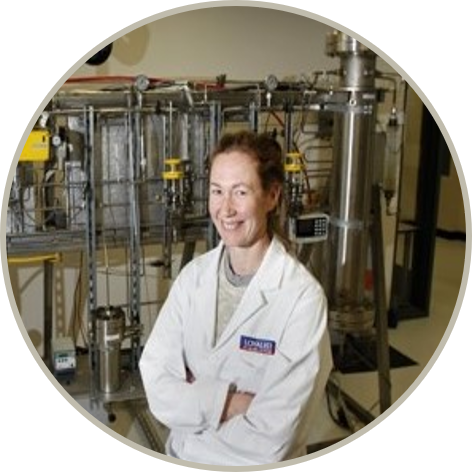 As a Technology Access Centre, the Centre for Natural Products and Medical Cannabis operates through contributions from government, Loyalist College, partners and industry.
A Technology Access Centre (TAC) is a designation allocated to an applied research centre affiliated with a Canadian college that provides regional industry with access to specialized technology, equipment, and expertise. There are 60 TACs enabling specialized innovation in Canada and Loyalist College is the only TAC in the areas of natural products and cannabis.
The Centre has a record of success in receiving funding from other public and private sources to fund client projects.
2022
Internship ($25,000; CICan Career Launcher — Clean Tech Internship Program)
Development of nano-emulsions technology for the cannabinoids — student internship ($15,000; Mitacs Business Strategy Internship)
Development of a plant-based production system — student internship ($15,000; Mitacs Accelerate — College Internship Program)
Upcycling of Waste By-Products into Sustainable Cosmetic Products — 3 student internships ($45,000; Mitacs Indigenous Pathways Program)
Commercially relevant natural products and strategies to ensure quality ($440,000; Natural Sciences & Engineering Research Council Applied Research and Technology Partnership grant)
2021
'Process Optimization for Production of Cannabis Starter Plants from Tissue Culture' ($75,000; Ontario Centre of Innovation (OCI), Voucher for Innovation and Productivity (VIP) program)
5 applied research projects ($75,000; GreenCentre Canada/IRAP GreenCentre CONNECT)
Internship ($25,000; CICan Career Launcher — Clean Tech Internship Program)
International Space Station Hemp Seed Germination- On Ground Proof of Concept — 2 student internships ($30,000; Mitacs Accelerate — College Internship Program)
2020
Funding for 22 industry projects
Internship ($14,000; CICan Career Launcher — Clean Tech Internship Program)
Stability Testing for Cannabis Products – 2 student internships ($30,000; Mitacs Accelerate – College Internship Program)
Application and optimization of molecular methods as an early predictor of cannabinoid content through the growing process of select cannabis cultivars in an industrial starter plant production – 2 student internships ($30,000; Mitacs Accelerate – College Internship Program)
Liner analysis and cannabinoid absorption ($14,000; GreenCentre Canada/IRAP GreenCentre CONNECT)
Cannabis sector specific training program creation and development ($740,000; Ontario Ministry of Training Skills and Knowledge – Skills Advance Ontario)
2019
$150,000; College and Community Innovation Program – Applied Research Tools and Instruments Grants (ARTI)
$1,320,000; Ontario Centres of Excellence (OCE) College Strategic Sector/Cluster/ Technology Platform (CSSCTP) Program – Stream1
2018
$1,000,000 each from Canada Foundation for Innovation/Ontario Research Fund (CFI/ORF) College Industry Innovation Fund; Round 6, Stream 1
$1,750,000 over five years – renewable; NSERC – College and Community Innovation Program- Technology Access Centres Grant
Select applied research projects (prior to 2018):
Extended trials to determine the shelf-life and optimal storage conditions of protein alternative cricket powder ($3,600; Natural Sciences and Engineering Research Council of Canada (NSERC) Engage Plus Program
Develop Sound Criteria for Hop Processing and Packaging ($11,925; Ontario Ministry of Agriculture, Food and Rural Affairs (OMAFRA) Growing Forward II Program)
Development of a supercritical CO2 extract from Mahonia Aquifolium for use in treatment of psoriasis and eczema ($67,487; Ontario Centres of Excellence (OCE) Voucher for Innovation and Productivity (VIP) Program with Natural Sciences and Engineering Research Council of Canada (NSERC) Engage)
Hops: a potential niche crop for Ontario ($267,110; Ontario Ministry of Agriculture, Food and Rural Affairs (OMAFRA), New Directions Research Program
Investigation of the Extraction of Caffeine from Spent Coffee Grounds for Product Development ($155,000; Federal Development Agency for Southern Ontario (FEDDEV) Applied Research and Commercialization (ARC) Initiative)